Handshakes, High-Fives & Man-hugs… Sorry, but I MISS THEM!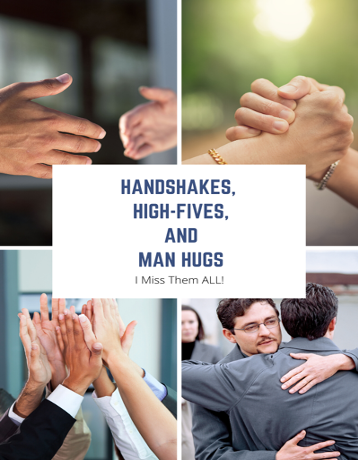 Let's face it, handshakes, high-fives, and man-hugs, once simple habits, are now considered ill-advised and totally inappropriate. Social Distancing is the new mandate.
In truth, Social Distancing is not something new. It actually began when we chose to email or text rather than talk! It has been practiced through all of our social media platforms for years.
Today, Social Distancing provides us all an essential means to Help Fight the Fight Against COVID-19. Yet I have to wonder if something else is also happening while we are doing this and hope that this time apart may rekindle a natural need for human interactions.
This thought actually began about a week into our world being rocked when I was at a non-essential doctor's appointment. My doctor is a 6'5″, late 50's male who has an ever-present smile and welcoming personality. When entering the examination room, he typically shakes my hand, fist-bumps my shoulder, and jokingly asks, "Why the hell are you here today?"
That entire experience changed. As doc entered the room, his smile was less present, he didn't hold out his hand or give me that fist-bump to my shoulder. He went directly for the hand sanitizer, sat down, looking exasperated, looked at me, and said, "Excuse me, but this-sucks!"
So, as we went through the simple vitals exam, it became clear to me how important a bit of humor and real human connection is to all of us.
As the appointment was coming to an end, doc stands up, has his old smile back, pretends to hold out his hand, then his elbow, and he says, "I guess we can't do either of those, so let's "Foote-Bump!" And he proceeds to kick my foot with his. Ending with, "Thanks for stopping by today, I needed a little human therapy."
In closing, I realize that texting, social media, and who knows what else is never going away, but I, for one, can't wait to once again receive a handshake, a high-five, a man-hug, and just maybe one of doc's "Foote-Bumps!"
Stay safe and call someone today!
Handshakes, High-fives, Man-Hugs, and "Foote-Bumps" to all!
Dan